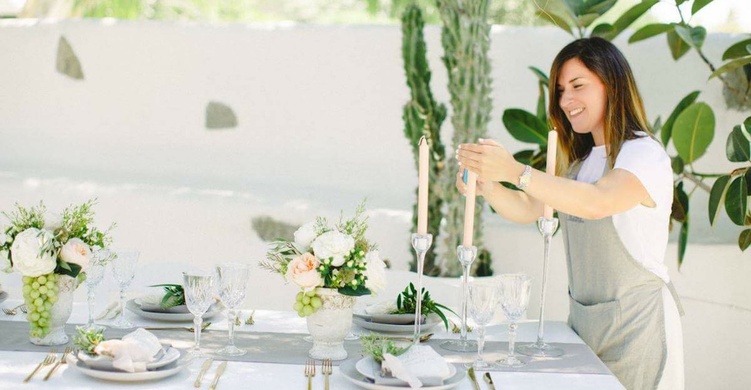 4 Things you did not know about us Wedding Planners
There are a million things people would never know about wedding planners, like how we don't drink champagne and dance 'til midnight every weekend or how the planning takes almost 100 times as long as the actual hours of the actual duration of a wedding.
First, as all event professionals, we live in fear: That our car will break down and we won't make it in time for the wedding. That the wind will blow out all our décor. That our vision will turn out mediocre. We live in fear that there will be a total blackout on the remote island where we decided to plan our wedding, that it will rain on the day and kill the mood of our clients and guests, and so on. Seriously, we have nightmares of all that – legit, cold sweats.
Second, as planners, we live in a state of in between. The limbo that is a wedding day is unpredictable. In all truth we know exactly what is happening and when, considering we are the ones drafting the day-off timelines. But still, as the main characters in orchestrating an event, we are forced to be fully present at all times with all our vendors and the couple and their friends and family and know what is happening and anticipate what each of these individuals might need before they even feel the need to need it! We want to make sure that everyone is happy so we have to always be thinking and anticipating what's coming next. We've seen it all, so we know more or less what's coming but still that limbo is both exhilarating and exhausting!
Third, we have these things we call "Sunday Hangovers." No, we weren't refering to hitting your open bar at the reception, we just know that we will literally feel like death the next day. From running around on our feet all day, lifting heavy décor boxes, getting severe sunburns, getting hit by décor items flying-off due to the wind (for real this has happened to our team!) having to do team run-throughs while loud sound tests are takign place, then trying to look composed for the ceremony and reception, not to mention the magical time of the venue site clear-out in the early hours of the morning with blisters on our feet. Every single moment leads to these glorious Sunday hangovers that leave us in bed or limping around like we are 80 (but with a smile on our face!)
Lastly, the biggest thing no one knows about weddings, is that most of the time we don't want to leave. We spend this precious day with your closest friends and families, inserting ourselves into these moments that we know you will cherish forever. We aren't just a fly on the wall, we are invested, animated, emotional pieces of your wedding day puzzle. We get hugs from your parents and grandparents thanking us for making you happy, we catch your veil when it flies off, we get pulled on the dance floor by your bridal party to celebrate with them, we cry over your first dance with your dad. And yes, we do think "How lucky to have found each other" and hope that one day we will be as lucky as you!
When the night comes and all the lights go down, we are the last ones you say goodbye to. So know this, when I hug you and say goodbye, I am secretly hoping that this won't be the last time our paths cross, because I have lived this entire day through your eyes and I never want to forget it or you.