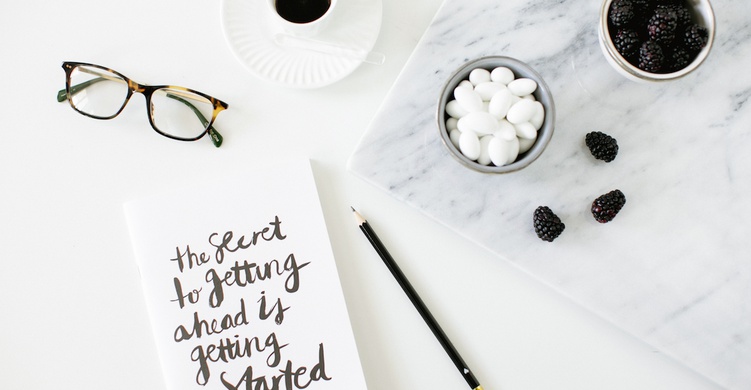 8 Things No One Tells You About Working for Yourself
When I quit my part time corporate job I imagined that working for myself would sort of feel like a vacation with late morning starts and early afternoon pilates classes, well and some work in between!
The first days were filled with endless snoozing, Keeping up with the Kardashians marathons, browsing fancy stationary online, and minutes spent questioning how I would fill each hour. While I hopped around the house without having a specific schedule, I was filled with so much happiness and freedom that I missed the opportunity to really think about what this new life would look like. So here we go, an honest list of what it's really like to be your own boss.
1. YOU WORK MORE
I know you have heard this one before, but when you become a business owner you develop a condition that I like to call workahusling! It's the combined urge to hustle constantly and become a workaholic. So say goodbye to your 9-5 and welcome to 14-hour days. The best part is that you will love rather working 80 hours for yourself than 40 for someone else!
2. YOU WILL NEVER WEAR WORK CLOTHES AGAIN
Say goodbye to pencil skirts and freshly pressed pearly white shirts and welcome yoga pants, oversized knit sweaters, knee high socks. No shoes necessary and frizzy hair welcomed!
3. YOU WILL GAIN A FEW POUNDS
My friends that's for real! Make sure you subscribe to your neighborhood gym before you quit your 9-5 because working form home equals close proximity to your kitchen equals constant snacking as an excuse to have breaks! Gym registration before quitting your 9-5 recommended.
4. YOUR JOB DESCRIPTION WILL EXPAND
Be ready for a multi-faceted job title, which apart from your dream job (for me wedding planning) will also include, accountant, office manager, call center operator, IT support, cleaning and office maintenance.
5. YOUR FRIENDS WILL EITHER THINK YOU ARE TAKIGN UP A NEW HOBBY OR LEAD A VERY GLAMOROUS LIFE
Neither of the two is true but you will encounter both misconceptions. Some of your friends will think that a person can't make a living by sitting on a computer in yoga pants while they work in shinny skyscrapers in tailored suits. Others will be so mesmerized by the fact that you are a business owner that they will imagine you are JLo from the Wedding planner, two assistants outside of your office, invitations to social galas flooding your week and a wardrobe filled with pastel stiletto heals.
6. YOUR WORLD, POPULATION ONE
You will crave human interaction so much that you will socialize with anything from your mailman to the succulent decorating your desk!
Work success, booking clients, getting featured in a cool wedding blog? Prepare to celebrate all this alone in embarrassing dance-offs with yourself. As for the failures, ugly crying in your coffee mug while staring at the screen and asking for help from your desk succulent will become your go to routine!
7. YOU WILL WANT TO QUIT YOUR DREAM JOB
At some point you are definitely going to question your choice and the pursuit of this career path. You will want to quit and go work at McDonalds, or at a job that doesn't carry the weight of constant responsibilities.
That is of course until you remember you are doing your dream job!
8. THE LEAP IS GOING TO CHANGE YOUR LIFE
We sometimes forget because we have had distance from our old careers, what it means to love your job, to wake up every day looking forward to the hustle. Why do you think we work more than at our old jobs? It's not just the added responsibilities. We want to work more; we enjoy it so much that working even on weekends is fun.
Always know that designing a life you love is brave and you should be proud for taking a step closer to making this happen.