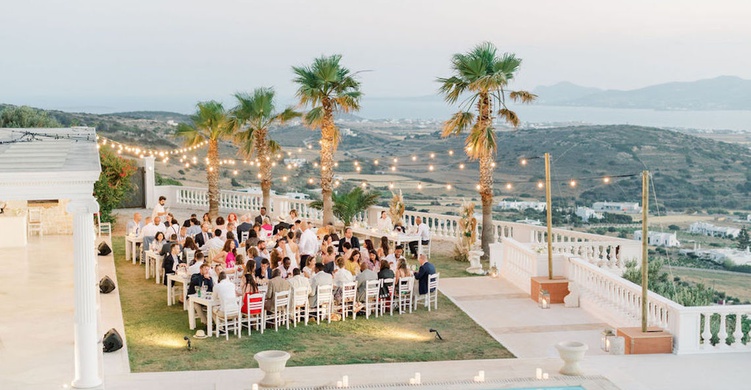 Destination Wedding in Paros Island
Labrini, our Greek-Australian bride met the Jamaican-British groom Richard 5 years ago while they both lived in Hong Kong. After a couple of dates they fell in love and built a life together doing the things they enjoyed more in life. They travelled around the world, explored different cultures, flavours, met each others families and spent countless hours getting to know each other and build a solid relationship.
Having moved to New York a few years later, and when Richard proposed to Labrini after having spend a long time apart during Covid, they decided to have all their friends and family from all over the world meet in Greece to celebrate their love with the backdrop of the beautiful Cycladic island of Paros.
They chose a villa with a Grecian architecture and the most breathtaking views of the sea and sunset, as they wanted to honour the location they chose for their wedding.
Labrini wanted to choose a gown, which would be light on a hot summer day in Greece but also follow a simple Grecian style. Similarly their decor was bright and modern, accentuated by pops of yellows in their colour palette but also dried elements in order to honour the local vegetation of the Cycladic island which are mainly dry.
Lots of romantic bistro lights decorated the reception as the sun went down and a romantic ambience was created by soft tunes of Greek Bouzouki playing in the background throughout the evening celebration.
Wedding Planning & Design: White Ribbon Boutique Events
Photography: Vasilis Kouroupis
Videography: Feel Your Films
Catering: Aliprantis Catering
Bar Catering: Ramantanis Bros
Florals: Chaniotis the Flower Workshop
Art De La Table: White Lilac
Cake: Poulette
Stationary: Bright White
Sound & Lights: AVAC
Hair: Flora Dragazis