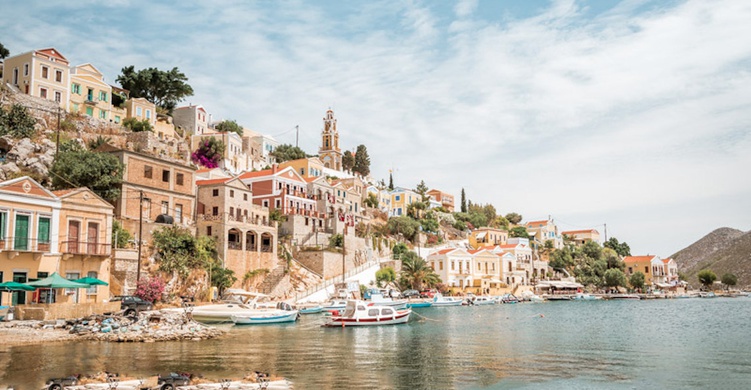 Symi Island, Greece
I spent a few days this Easter on Symi island, a destination I have always wanted to visit.
Symi is one of Greece's most distant Eastern Aegean outposts. It lies in the Dodecanese archipelago and is accessible by a 40-minute ferry ride from Rhodes where you can get to, through most European airports.
The experience of entering the harbour with the ferry is simply breathtaking. Candy-coloured harbour town of Yialos is surrounded by steep slopes forming a natural amphitheatre, and greets its travellers with an enchanting tumble of tiered, Neoclassical mansions in hues of ochre, terracotta, sherbet pink and lemon. Built by 19th-century sponge and spice merchants, the whole town is a national monument, with 500 steps that spread across the scrubby cliffs to nearby village Chorio.
With no large hotels, Symi is small and sophisticated. It has largely remained the preserve of inquisitive island hoppers and sailors bewitched by its harbour. With its laid-back glamour, luminous sea and almost tropical microclimate, Symi is a hit with French and Italian yachties. You'll find them eating flash-fried baby shrimp, a local speciality, at sensational tavernas where the harbour views almost steal the show.
The island is small enough that you won't need a car. Ravishing beaches are accessible by boat or on foot. In the rugged hinterland, more than 100 monasteries are hidden among the pine and cypress forests.
Symi is a truly unique gem of the Aegean with unrivalled and untouched beauty compared to other islands in Greece where mass tourism threatens to eliminate traditions.
Inspired by its unique beauty, I couldn't help imagining what a stunning backdrop this island would make for a destination wedding in Greece. Rest assured that I did not leave the island without scouting some ideal wedding venues. Despite its small size, I was surprised to find that it offers numerous options from white washed chapels on uninhabited islets, piers jutting into the endless blue and dramatic balconies overlooking the enchanting harbor of Symi island.