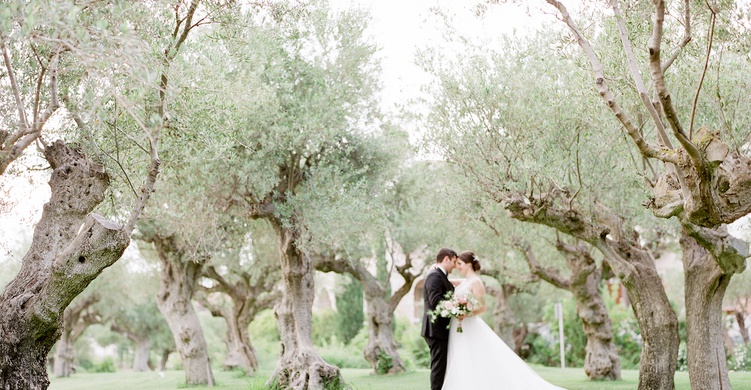 Eleni & Alper
The couple's story begun back in 2012 when both the groom Alper & Bride Eleni, spent the summer interning in NYC. They spent their first date walking through Central Park and somehow ended up at a Greek restaurant! Most of their relationship was long distance thereafter. After many flights back and forth and many collected airmiles, the bride who is of Greek origin decided to move to Norway, home to the groom, who is of Turkish origin.
Right before the big move they took a trip to the city where it all started – NYC! On their first day the groom surprised the bride with a visit to the Rockefeller Center. They entered through a private elevator, and once they turned the corner the bride knew it wasn't an ordinary visit to the Rockefeller Center! They were alone with a violinist and photographer on a private terrace overlooking 5th Avenue where Alper asked Eleni to marry him!
The concept for the wedding was inspired by the merging of two very distinct cultures, the Turkish and Greek. We designed the menu to combine the two cuisines.
For the decor we opted for a concept of classic luxury with dark navy linens to complement the green surroundings, we sourced hanging lanterns from Istanbul along with hand blown glass containers containing Turkish delight that guests took home after the end of the reception!
The night was made brighter by a stunning fireworks display which light up the sky and create the perfect finish to a beautiful reception and the start of the couple's new journey through life.
Photography: Vasia Han
Wedding Dress Designer: Lazaaro
Bride's Shoes: Manolo Blahnik
Bridesmaid Dress: Jenny Yoo
Grooms suit: Made with Hart
Invitations: Minted
Ceremony & Reception Stationary: Atelier Invitations
Cake: Pavlov's Lab
Florals: Red Box Days
Sound & Lights: Music Essentials
Dinnerware: White Lilac
Fireworks: Nanos Fireworks