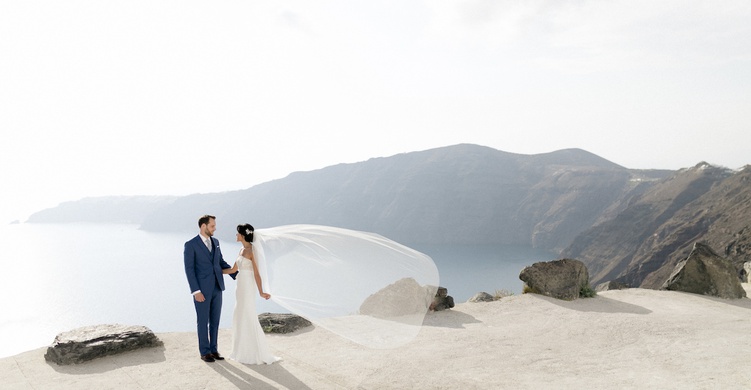 Jess & Tim tie the knot in Santorini
Tim and Jess met during their freshman year of college. Though they were friends throughout university, the timing was never quite right. We both ended up in New York City after college and the rest is history. Tim proposed on their 4 year anniversary weekend, after spending the whole day making homemade ravioli and rolling out the dough using a wine bottle because we didn't own a rolling pin! The next day, they whisked away for a spa weekend in Upstate New York.
They had never been to Greece, but knew they wanted a special destination for their wedding and they were consistently drawn to the beauty of the caldera views and laid back atmosphere.
And right there, in front of the Caldera is where this sweet coupel exchanged their vows in front of their closest friends and family. The dinner took place on a breathtakign balcony with two long family style tables set-up. The inspiration for the decor was a mixure of earthy tones with some softer and romantic pinks infused in the flower, tabelware and linens.
The intimate dinner was followed by emotional speeches and a faboulous party that concluded the night.
Photography: Anna Roussos
Venue: Rocabella Hotel, Santorini
Wedding Gown: Lela Rose
Bridal shoes: Jimmy Choo
Bridal hair: Bella Santorini
Bridal make-up: Renia Santorini
Flowers: Red Box Days
Wedding Cake: Pavlov's Lab
Menus: Nice Plum Calligraphy
Invitations/Stationary designer: Brown Fox Calligraphy
Furniture: Spicy Bites