WORK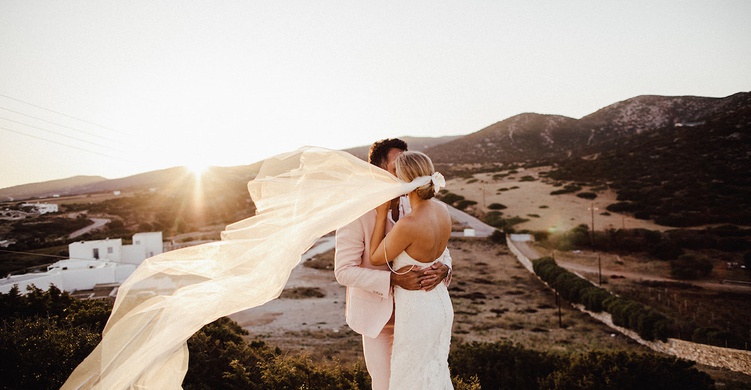 Sept. 12, 2020
Eva & Leo
Our beautiful couple met through Tinder 3 years ago and fell in love right after their first date. They lived in different continents, our bride is German living in Munich at the time and our groom is Italian living in New York, but that didn't stand as an obstacle in their relationship, as love conquers all. Leo visited Eva for 1,5 year in Munich every 3 weeks and they travelled together.
One of their first travels was to Greece, where they also fell in love with the magical place as they describe it and particularly Antiparos, being less touristy and more authentic, so it was easy to choose Greece and especially Antiparos to bring their closest friends and family to celebrate their wedding with them. Eva moved to New York to live with Leo about a year ago and that's when he proposed at the terrace of the Dumbo House with the skyline of NYC in the background. Their dream is to wake up one morning, together, in their beach house in Greece, looking at the sea.
A stunning villa with breathtaking views of the sea hosted their ceremony, where they exchanged their heartwarming vows with a small group of loved friends and family witnessing their true love for each other. After that, a night of surprises began for the bride and groom where friends and family danced and laughed until early morning, under the stars and the beautiful bistro lights adorning the reception area by the pool of the villa.
The scenery of the villa, the infinite blue of the sky and sea right in front and the personality of the bride is what inspired the décor design this wedding. Combining color palettes in Grecian Blue and various shades of pinks, but also a variety of textures blended in perfectly with the surroundings, were the key elements of bringing together a beautiful outcome for our couple's wedding.
Wedding Planning and Design: White Ribbon Boutique Events
Photography: Carmen & Ingo
Florals: Chaniotis The Flower Workshop
Reception Stationary: Atelier Invitations
Music, Sound & Lights: Music Essentials
Tableware: White Lilac
Wedding Cake: Pavlov's Lab
Favors: Yria Ceramics
Catering: Aliprantis
Bar Catering: Ramantanis Bros
Bridal Hair: Flora Dragazis